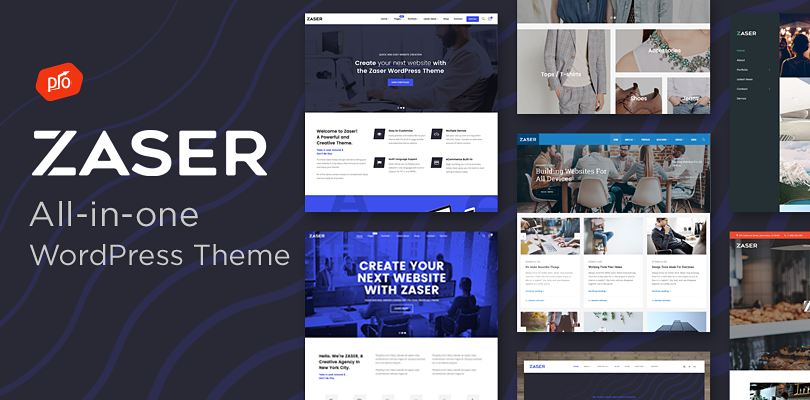 Zaser Pro is a new all-in-one WordPress theme, which will surely impress you with its capabilities. Zaser is created to meet the needs of the owners of the most diverse sites. This WordPress theme is suitable for personal blog or portfolio, and for the online shop or the agency website as well. This versatility is achieved by having a large number of pre-made templates, and the ability to easily adjust them to the individual needs of any web project on the WordPress platform.
Zaser meets all requirements of a modern WordPress theme: it is mobile responsive, retina ready and SEO optimized. These features solve the majority of problems that the owner of the WordPress site could potentially face. For example, Zaser eliminates the need for additional optimization for mobile devices. In addition, the question of optimizing a website in accordance with the requirements of search engines requires needs a considerable investment of time and money if it would not carried out by the creators of a WordPress theme. Zaser allows you to leave these problems behind and to be engaged directly in the development of your site, and creation of the content for it.
In this article we analyze all the features of Zaser WordPress theme in detail. This way you can familiarize yourself with all the advantages of this theme before you buy it. We will separately analyze the opportunities and benefits that Zaser provides for portfolio sites, personal blogs and online stores.