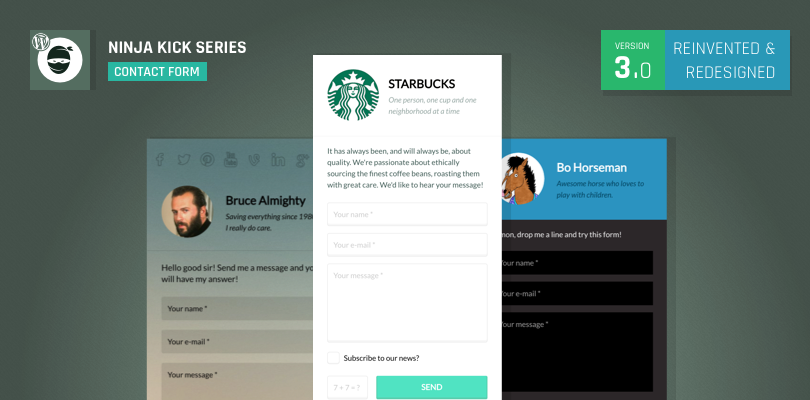 Ninja Kick: WordPress Contact Form
Plugin that adds WordPress contact form with content push animation effect and clean design on every page of your site.
Plugin uses modern CSS3 transitions with fallback to older JS animations if browser lacks support. Contact Form is responsive to screen size changes, works well on mobile devices and reacts on swipe gestures. Please, give a try to how it works and looks on Live Demo page. Kick your site!
If you want to make it easier for your readers to get in touch with you then the Ninja Kick Sidebar: Contact Form plugin could be just what you are looking for. There are many benefits to making it as easy as possible for your visitors to send you a message. These benefits include increasing the likelihood of your audience connecting with you, generating more sales, and landing more clients.
Joe Fylan, WPKube
Main Features
Mailchimp Opt-in.
Modern Input Effects.
Unlimited forms (each is customizable).
Inclusion/exclusion rules for pages, user roles and devices.
Support and styling for Contact form 7 shortcodes.
Additional form fields: Company, Phone, Address, Subject.
Color switcher allows to change base color to match your site.
Responsive design. Works great on smartphones and tablets.
Three themes with clean and tasty design.
Amazing sleek fly-out animation effect.
Rich customisation overall.
Option to hide label and trigger form opening from any element on page (menu button, link, image).
User-friendly Settings page.
Form adjusts its layout automatically for the best view depending on fields you filled on Settings page.
15 patterned and 15 blurred built-in backgrounds + your own.
Client-side form validation and form AJAX submission.
Swipes support for mobile devices.
Localization for languages: English, German, French, Italian, Spanish, Russian, Polish, Turkish (thanks green2005).
Social links bar.
Human test option to prevent spam.
Screenshots
Further Reading